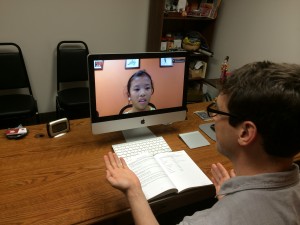 When we began learning Chinese over a decade ago, online resources were incredibly scarce. One of the best, zhongwen.com, provided an online dictionary that required knowledge of Chinese character radicals to navigate. While that particular site was and still is a good resource to learn about character genealogy and read Chinese classics like the Confucian Analects, the Internet has come a long way in making learning Chinese more accessible and more convenient than ever before.
Now, students all over Ohio and beyond are becoming proficient in Chinese through Columbus School of Chinese distance-learning courses led by our live instructors. CSC offers a variety of distance courses that are structured to fit the unique needs of each student, including 1 on 1 language instruction and cultural training for groups via freely available video conferencing software such as Skype and FaceTime.
Live instruction, coupled with free high-quality supplemental resources for Chinese language learning online, is enabling students to reach levels of proficiency much faster than just a decade ago.
Here are some of our favorite high-tech resources for learning Chinese:
Pleco – Pleco is an intuitive Chinese-English/English-Chinese dictionary app for iOS and Android mobile devices. The app is free to download, and a variety of premium add-ons such as an optical character recognizer are available for purchase on an a la carte basis.
Nciku – Nciku is a comprehensive web-based Chinese-English/English-Chinese dictionary that boasts over 3 million entries and a variety of features, including handwriting recognition, stroke order animations, discussion forums, vocab lists, memorization tests and even its very own social network where you can interact with native speakers and other language learners, called nciku Hi! All features are free, although some require a free registration.
Podcasts – A quick query on Google or the iTunes Store will yield a multitude of podcasts geared toward Mandarin learners. Among our favorites are iMandarinpod and Slow Chinese.